As the NCAA (National Collegiate Athletic Association) Division, the Miami RedHawks are composed of intercollegiate athletic teams, representing Miami University in the US, Ohio, and Oxford. They are a member of MAC (Mid-American Conference), their football team is competing in the highest level for college football FBS (Football Bowl Subdivision), and their hockey team is a member of the National Collegiate Hockey Conference. The Miami RedHawks sports team, in box scores for sporting events, is often referred to as Miami (OH), to set them apart from the Miami Hurricanes.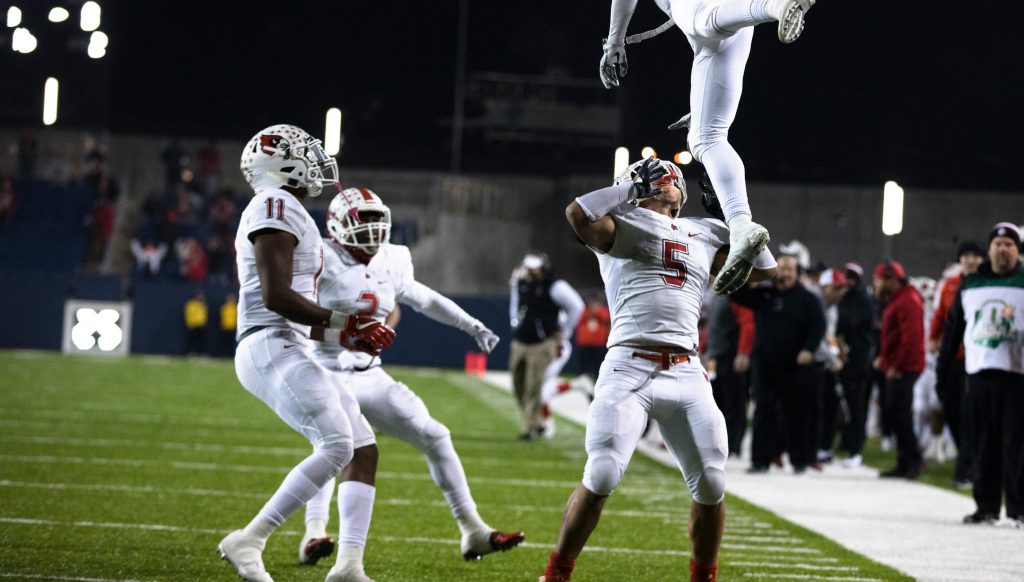 The History
Miami University first opened its doors in 1809, however, their football team was created a lot later, in 1888, with the RedSkins mascot. In the beginning, for the first two seasons, there was no coach for the teams, from 1898 – 1899. The first head coach who was selected was C. K. Fauver, and he led Miami University to a 3 – 0 record in 1895. Before Miami RedSkins were formed, there was an array of coaches for Miami Redskins.
In 1996, Miami changed the mascot to RedHawks from RedSkins, as the name was seen as disrespectful towards Native Americans. Nine of the coaches for RedHawks have led them to postseason bowl games: Woody Hayes, Dick Crum, Bill Mallory, Tim Rose, John Pont, Sid Gillman, Michael Haywood, Tim Rose, Chuck Martin, and Terry Hoeppner. Fourteen coaches have won the conference championships; one for Buckeye, three for OAC and ten for MAC.
Miami Redskins won 22 conference titles, 4 shared and 18 outright. Their winningest coach is considered to be Randy Walker. After the head coach, Tim Rose did not renew the contract in 1989 and left the team with a losing record, Randy Walker became the 30th head coach for the Miami RedHawks. In the very first year as the coach, Miami RedHawks posted a 5 – 5 – 1 record, which was an amazing improvement for a team that had only had two wins in the previous 2 years. In his 9 years of coaching, Walker made a steady improvement, and in the last year with Miami RedHawks, he culminated a record of 10 – 1.
Their current coach, Chuck Martin was selected in 2014, as the 35th head football coach for the Miami RedHawks. Chuck Martin is also known for compiling a 74-7 record in his 6 seasons as a head coach at NCAA Division II.
Everyone has heard about the Fred C. Yager Stadium, also called the Yager Stadium, as this is home to the Miami University RedHawks football team. It is a football stadium built in 1983, with a capacity of 24.286 spectators. This stadium replaced Miami Field and is a home field to many coaches who made Miami University famous. The Yager Stadium was named after Fred C. Yager, who was the lead supporter/sponsor to build the stadium.
Hall Of Fame
Gordon Wilson, 1905-1991, earned two letters as a catcher from 1926-1927 in baseball, and three as a running back from 1924-1926, under the coach Chester Pittser. In 1926, he served as the team captain in football, and with his guidance, Miami's baseball teams compiled a record of 24 – 3, as they also captured one Ohio Conference and two Buckeye Conference titles. Wilson retired in 1972, before which he served on Miami's English faculty. He became a professor in 1960 and an emeritus professor in 1972, and in 1973 he was presented with the honorary Doctor of Letters Degree.
Fred Foster, 1946 – 1985, was a basketball player for Miami, from 1965 – 1968. First, he played under the coach Dick Shrider, he played on the MAC championship, and the last two years his coach was Tates Locke. In both his Junior and senior seasons, he was an All-MAC first-team, and he holds 3 single-game records for Miami Redskins. Fred Foster also attempted 36 field goals against Eastern Kentucky and made 19 out of 25 free throws against Ball State. The third-highest points in Redskin history are the 43 points against Ball State in 1967 by Fred Foster.
Bob Shaw, 1921-2011, was a known swimmer from 1966 – 1969, and he managed to capture 8 individual titles, 200-, 100-, and 50—yard freestyle events, and he was also a member of the relay teams in 400- and 200-yard freestyle events. In 1967, swimmers John Russell, Ted Goble and Bob Shaw each won a three individual MAC championship. Bob Shaw became a coach and led RedSkins to a 10-year record of 77 wins and 36 defeats. He was also voted the Redskins' "Coach of the Year", as in his first year, the team was able to win the MAC championship.
Rob Carpenter, born in 1955, was selected for the all-NFL Rookie Team in his very first year. Later, in 1981 he was traded to the NY Giants, where he managed to rank 8th on their all-time rushing list prior. He gained over 4300 rushing yards in his 9 years spent in the NFL. He was voted as the "Outstanding Offensive Player", and as he was selected in his junior and senior years for the all-MAC team, he also received the All-American honorable mention. He is ranked 5th on Miami's career list with 168 points scored and 2789 rushing yards.
Charlie Leibrandt, born in 1956, was a pitcher on the Redskins baseball team, and he earned four letters under the coach Bud Middaugh. In his senior year, he was selected for the All-District 4 and all-MAC team, when he compiled an ERA of 1.65 and a record of 7-2. He ranks as the second in strikeouts (252), tied for 6th in games (63), 4th in innings pitched (268), and 8th in victories (23); among Miami's all-time leaders.
The winning tradition in both the classroom and the field, have been a part of the Miami University for over 200 years. Throughout history, Miami has seen a lot of success, both athletically and academically, and that is what makes them one of the most successful universities in the nation. They believe in the value of higher education and for all student-athletes, graduating is a priority. Miami University has a rather unique ability to connect the community with the campus, and as one learns more about their history, it is quite obvious why.